Trespa Second Life
Trespa Second Life strives to provide a second chance to as many Trespa panels as possible.
Our objective
Trespa Second Life promotes a circular economy by extending the lifespan of Trespa® Meteon® and Trespa® TopLab®VERTICAL panels. Our panels have a reference service life of 50 years but are generally used over a shorter period. As we strongly believe in the quality of our products, we want to take responsibility over facilitating their reuse, thereby reducing waste and minimizing emissions from production of the second-life product.
What is a circular economy?
It is the sustainable alternative for the traditional linear economy (produce, use, waste). It aims to minimize waste and the use of raw materials. The purpose is to use materials for as long as possible, to the largest extent possible. The waste pyramid on the right shows the priorities when sustainably managing waste (European Union, 2008).
Our focus
Trespa Second Life focusses on the second step: reuse. We prioritize reusing over recycling as it requires less energy and is associated with less pollution. We seek to find second life applications that require strong and enduring materials – applications for which Trespa® panels are fit for purpose.
Where are we today with the program?
We have already activated the programme as we want to start doing the right thing, right now. We are learning as we go – we are welcoming requests to take back used panels that are planned to be dismantled, as well as requests to reuse our panels in non-façade applications.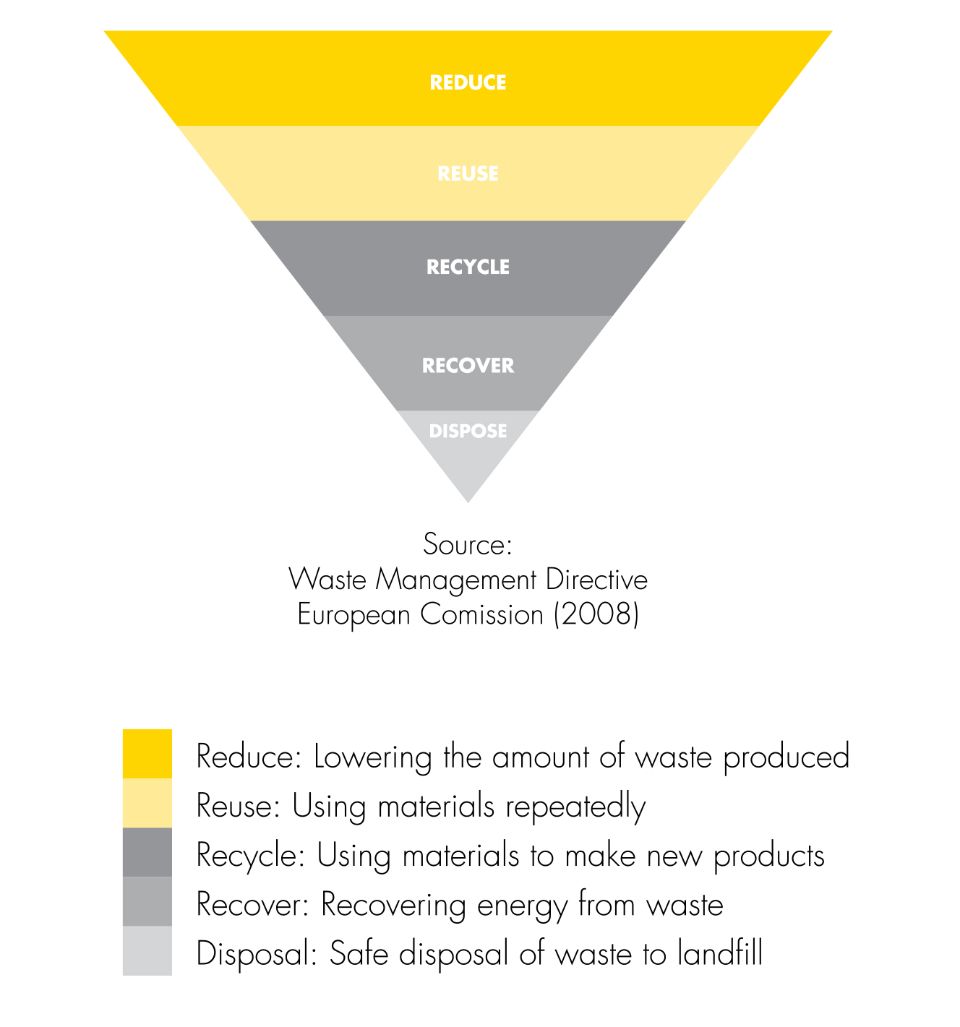 How does the program work?
Check eligibility of panels – in principle, panels are eligible for take-back if they:
Really need to be dismantled
Can be proven to be Trespa® panels
Have not been in contact with hazardous materials (i.e. chemicals that could have damaged the composition of the panels) or painted over
Have been mechanically attached
Will be dismantled in a damage-free/-limiting way
Indicate interest by sending an email to secondlife@trespa.com
Provide information about the panels: for us to ensure reusability
Receive a go or no-go based on the eligibility and information provided

If the take-back request is approved, Trespa will pick-up the panels and facilitate second-life conversion. The environmental impact of transport has been measured to ensure that the benefits of reusing the panels outweigh the environmental cost of transport. This is why the programme is currently only avaibable in EU Schengen zone, with a focus on NL, FR, DE, BE as these are our biggest markets. The goal is to also find local solutions for the markets outside of the EU Schengen zone in the medium-term.
FAQs - À propos des produits Trespa
As we believe in the quality of our products, we want to keep the value of these in the economy for as long as possible.
Most of our panels are currently incinerated at the end-of-life. In most cases, energy is recovered from the incineration process.
We don't charge a fee to pick-up the panels. The building owner/renovation contractor is expected to dismantle the panels in a damage-free way and collect/store them on pallets according to Trespa's instructions.
Trespa Second Life is meant for used panels. We would, however, like to be informed about what cut-offs look like in terms of sizes and volume as this is another topic we are considering.
That the panels will be
1) Dismantled damage-free
2) Put on pallets according to Trespa's instructions
3) Stored in a dry, frost-free area until pick-up. The site should be accessible by a 16.5M truck and a forklift should be available.
Trespa will arrange pick-up for the NL, DE, FR, and BE countries. For projects outside of these countries, this will be decided following a case-by-case approach.
We have calculated the environmental impact of transportation following our LCA methodology
Applications that are scalable and appreciate the properties of Trespa panels. Examples are (bike)sheds, storage spaces, garden applications (furniture, houses, dividers etc.), signage, waste separation bins etc.
At this point in time, the panels cannot yet be reused as a façade since regulation around this topic is still lacking behind. We are actively making sure we stay up to date with evolvements around this topic but until then we want to focus on what we can do already.
A certificate will be provided as proof of participation in the programme to those who have sent back used panels or reused them in second-life applications.
Trespa will specify why pannels cannot be taken back by Trespa if this is the case. An alternative could be to reach out to circular dismantler organizations.