Inspiração
Biofortuna LTD Deeside
Produtos usados

Trespa® TopLab®
White
E0-00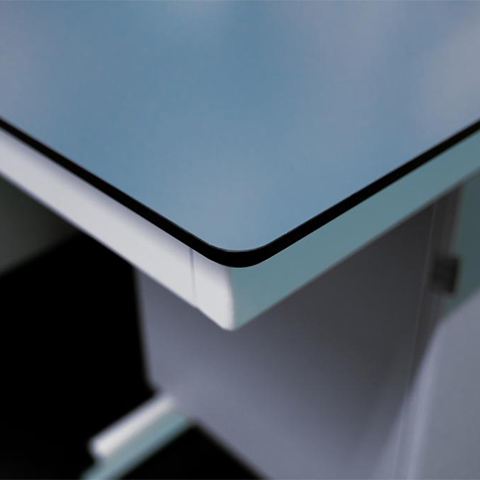 Crystal Matt
Requisitar amostra
Ou encontrar um revendedor
Arquiteto
Klick Technology Ltd
Fotógrafo
Mark Copeland, Envision Images
Aplicação
Scientific Surface Solutions
Segmento de mercado
Saúde
Tipo de construção
New Building
Localização
Industrial Park 2 Tenth Ave
CH5 2UA
Deeside
Reino Unido
A bespoke, future-proof lab furniture system for an ambitious life science company
Trespa Case Study – Biofortuna & Klick Laboratories
At its new, state-of-the-art research and production facility in Deeside, a few miles west of Chester, Biofortuna offers contract development and manufacturing in areas that range from genomics to diagnostic tests for Covid, cancer and other conditions. The company has been consistently aiming at rapid growth based on flexibility, efficiency and an emphasis on large-scale production. As a result, Biofortuna's operational goals call for doubling the number of employees within the next 18 months.
When it came to combining several sites into one to further improve on efficiency while adding much-needed capacity, Biofortuna found a building of 1,500m² that was suitable and well located. But it had to be configured from scratch to accommodate both the new laboratories and the corporate headquarters. "It was basically an empty shell", explains Clare Whitehurst, Marketing Director at Klick Laboratories. The laboratory fit-out specialist, which is based in nearby Manchester, was put in charge of the whole operation.
"To create the space needed for the offices without interfering with the laboratories, we added a 330m² mezzanine. We pride ourselves on being a one-stop provider for turnkey solutions – and indeed, the new Biofortuna facility gave us the ideal opportunity to showcase our know-how. First, we figured out how the whole building could be configured to work for the client, then we designed and planned accordingly. The third step was to fit out the premi­ses from top to bottom".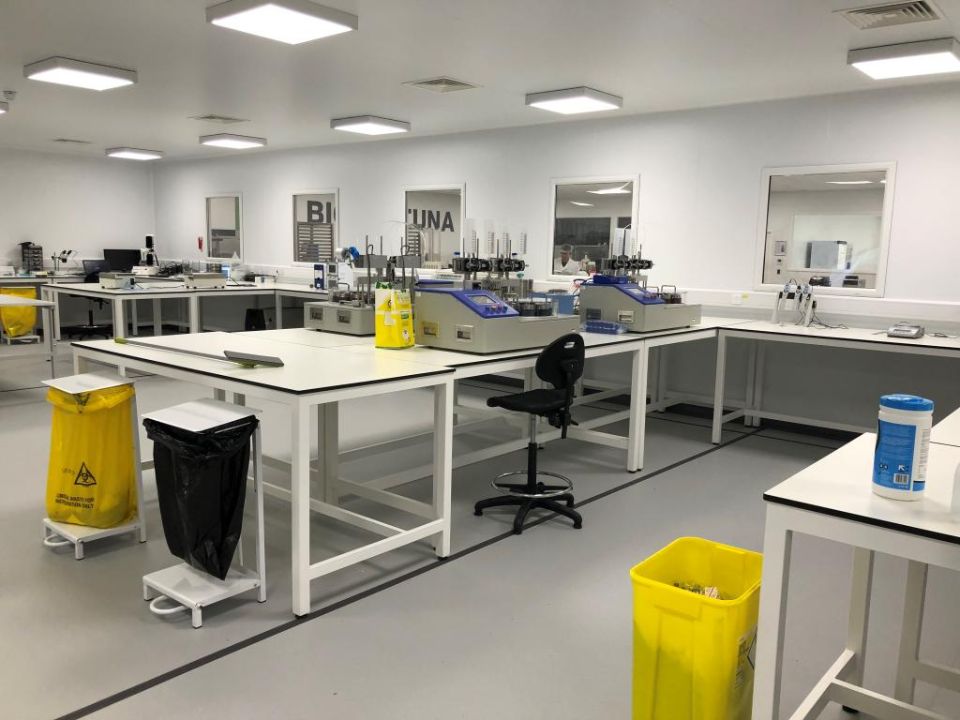 A highly integrated, demanding project
Jonathan Whitehurst, Klick's Managing Director, points out: "We go well beyond lab furniture. It is our core competence, but our approach is based on integration. We design, we plan, we coordinate, we supply the equipment, including technical compo­nents if requested, and we are used to dealing with all the trades involved. This puts us in a good position to tackle large, complex projects".
Clare Whitehurst adds: "For Biofortuna, we went all the way – and beyond. This included sourcing the office furniture in colours that pick up on the company logo, with its combined shades of green and turquoise. We even managed to add some unusual extras – like the 'meeting pods' that are meant to foster face-to-face interactions in an intimate setting. They were a request from the senior mana­gement, and we were able to find some funky, high-spec furniture to convey the right feeling. The same colours have been used for individual cabinet doors in the lab area. In a mostly white environ­ment, they create pleasant, contrasting accents. For the senior management team, it was important to project a clear, consistent visual identity through­out the facility".
Taking into consideration Biofortuna's ambitious expansion plans and the flexibility that is crucial in contract manufacturing, Klick has developed a fully modular, bespoke workstation based on a very specific brief. It is used in all lab areas. This makes it quick and easy to rearrange or even redis­tribute the workstations at short notice – allowing for changes in the work­flow, readjustments of staffing levels or redefined production priorities with minimal downtime.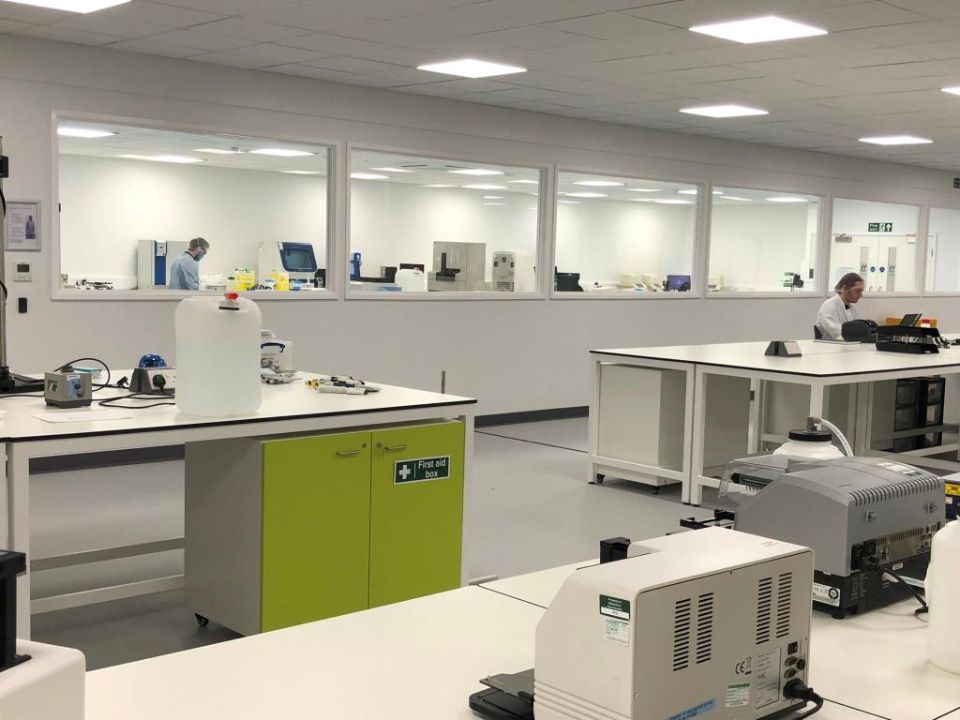 How to build a particularly versatile, free-standing lab table
Clare Whitehurst comments: "We have combined a sturdy steel base – some of the machinery in use at Biofortuna is really heavy – with worktops made of Trespa® TopLab® BASE. For added convenience, we have equipped each unit with a power socket. We are very pleased with the way the electrics work: the workstations can be configured as required, and then daisy-chained via a cable management system that is, in turn, connected to a service pole".
For Jonathan Whitehurst, opting for worktops made of Trespa® TopLab® was the obvious choice: "Our family business was established in 1981, and we have been using Trespa® products for 35 years. It is, quite simply, our go-to material for lab worktops. Worktops made of Trespa® TopLab® have long been the benchmark in our industry, and we use the material 95% of the time. This applies to both our commercial laboratory furniture and our lab worktops for educational environments, which represent the other half of our activity".
Clare Whitehurst points out: "For the lab worktops at Biofortuna, Trespa® TopLab® BASE was particularly well suited. It has excellent impact resistance, and it withstands severe use and frequent cleaning. This is why we also used Trespa® TopLab® BASE for the slatted bench in the clean room changing area and for fitted benches in the washup area – two environ­ments where the material will be subjected to years of intensive use".
Jonathan Whitehurst adds: "In most parts of the facility – for example in preparation areas for vaccines – Biofortuna is using wet processes. This results in the workstations and the rest of the equip­ment requiring very frequent cleaning. Therefore, moisture-resistance is also essential".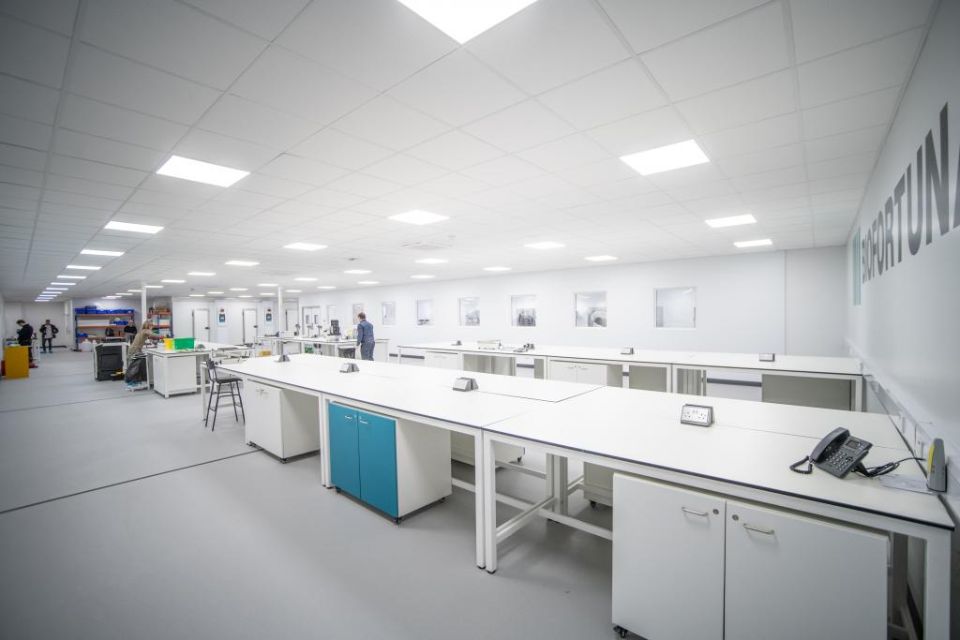 The details that make the difference
According to Jonathan Whitehurst, Trespa® TopLab® outperforms the competition in more than one way: "Other products in the Trespa® TopLab® line use EBC (Electron Beam Curing) technology, a proprietary hardening procedure that makes their surfaces exceptionally hard and scratch-resistant. When needed – which was not the case at Biofortuna – this improves even further the remarkable strength of Trespa® TopLab®".
"In addition, with better tolerances than the competition and large panel sizes, we can reduce the number of joints and adjust the worktops very snugly on site. Both aspects are highly beneficial in lab environments where hygiene and ease of cleaning are always essential".
Clare Whitehurst explains: "Our fitters are able to achieve really neat joints fairly easily when they draw worktop sections together. This is particularly true if they use our practiced method, which involves zip bolts to achieve an even tighter fit".
Roy Longson, Design Manager at Klick, agrees: "Worktops made of Trespa® TopLab® can be combi­ned to form elaborate installations, and we use zip-bolt joints to achieve a smooth, hygienic and watertight surface even with complex worktop shapes".
On a different note, Clare Whitehurst underscores the use of renewable resources in the manufacturing process: "Trespa® TopLab® is based on wood-derived, natural fibres, which offers an additional benefit it terms of sustainability".
The Biofortuna project was completed as the pandemic kept disrupting supply chains in many industries. Jonathan Whitehurst sums it up: "At times, the availability of some parts and materials was indeed an issue. We struggled time and again to get hold of supplies we urgently needed. But Trespa never let us down. They had their own challenges with the availability of certain product components, but they managed to maintain an adequate level of supply and provided us with excellent service – despite the overall situation".
Roy Longson adds: "When called upon, the technical support we receive from Trespa is also outstanding. This is not only very helpful. It also gives us greater confidence in the product. Over the years, this has helped convince us that Trespa® TopLab® is the ideal material for both commercial and educatio­nal lab applications".
Jonathan Whitehurst concludes: "We aim at exceeding our clients' expec­ta­tions and we work on demanding laboratory projects. Therefore, it is essen­tial for Klick Laboratories to rely on top-notch quality and first-rate support. Trespa deserves high marks in both categories. This helped us, once again, complete the Biofortuna project successfully. Nick Ash, the CEO, was really pleased with our turnkey solution – including the workstations, which play such an important part in the concept's flexibility".